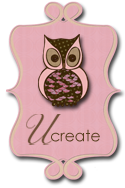 We've teamed up with U-create for an awesome giveaway this month! If you haven't had the opportunity to visit
U-Create
, hop on over there and check it out. Very inspiring for when you are suffering from a moment of creative challenge.
And I really, really,
REALLY
heart
this
!!
and I really dig burlap (and I don't know why- because I was HORRIBLE at those stupid hop-along races during Field Day at school) so I also drooled over
this entire section!
So now that you know what to get me for Christmas, lets move on to the give-away!!
One lucky BB reader will win SIX Moda 2010 Holiday Charm Packs. The charmed fabrista will get 2 Makin' New Friends Charms, 2 Adoring Charms and 2 Woodland Holiday Charms. All of these delightful little bundles will arrive neatly wrapped up in a holiday box perfect for gift-giving. (Or keeping as a little special something for yourself!)
Entering is easy, and there are lots of ways to receive multiple entries!
Enter: Sign up to follow this blog! Add a comment and let me know, if you are already a follower, you're still good- just let me know!
Why follow the Burgundy Buttons blog? Our Blog readers are routinely notified of exclusive Blog follower promotions. Happy Hour specials, Midnight Madness- it pays to follow the BB Blog!
Double Your Chances: Sign up for the
Burgundy Buttons Newsletter
. Add a comment and let me know. If you already receive the newsletter, it's OK- let me know!
Newsletter routinely are also notified of special promotions and Sales. We don't SPAM you or bambared you with emails! When you get an email from us-there's a discount!
Triple your chances: Shop at
Burgundy Buttons
! Use promotion code "UCreate" and receive 10% off your cart purchase!* Each purchase using this code will receive yet another entry! (Valid until the givaway ends and the winner is announced)
Quadruple your chances! BLOG about Burgundy Buttons and this promotion, linking BACK to us and receive yet
another
entry! (Leave a comment and let us know!)
So many ways to win!
Be sure and add your comments separately for each activity so that you will indeed be "counted" multiple times!
Good Luck!
*Promotion code not valid on special order items, special purchase items, previously purchased items, or items as listed in the item description. Only one promotion code can be applied during checkout.